While we didn't write the song, "I Have Tasted & Seen" (it was written by the super-talented Johnathan Montgomery), we were immediately drawn to it because its message was the whole reason we chose our name, "Faithful Crossings." 
For those of you who have read our book, "He is Faithful," you will remember this story. For those who don't have the book, we wanted to share the story behind our ministry and behind our love for this song.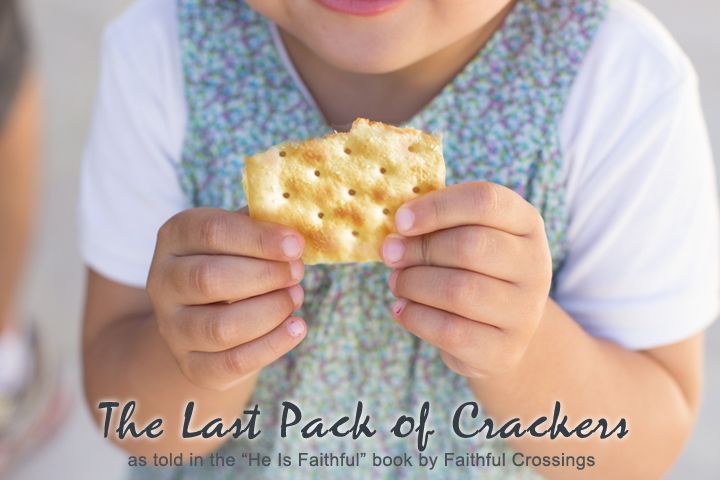 The Last Pack of Crackers  
 The year was 2004, Curtis had been laid off from his job and we found ourselves moving from a small town in rural Alabama to the huge Metropolis of Minneapolis, Minnesota. This move was a big step of faith for us, but we embraced the Steven Curtis Chapman song, "The Great Adventure" as our theme song, and we set out on our own Great Adventure. 
We were a young family; our children were just four and nine, and we had very little money, typically living from paycheck to paycheck and some weeks, relying heavily on the overdraft protection of our bank. Then came the layoff. Curtis searched far and wide for another job, but everything fell through, even the ones that he seemed certain to get. Then, a company from Minnesota, that we had not even considered, contacted him and offered him a job. We had felt the "winds of change" blowing for quite some time and had been praying for God to reveal where He wanted us to go, and we knew this was it. 
As was usual for us back then, we left Alabama as broke as we could be. We had expected our house to sell and some checks to come in before our move, but, one by one, our plans had fallen through. So, we set out on the long drive to Minnesota trusting in God, praying that we were doing the right thing and counting the days until Curtis's next paycheck would hit.  We had very little money and a lot of expenses, so we stopped at Walmart on the way out of town, and I cried as Curtis returned the bicycle that we had bought Lauren for her fourth birthday. 
With our hearts sad but our hopes high, we arrived in Minneapolis. It was the biggest city I had ever seen and somewhat of a culture shock for this southern girl, but we were excited to see what God had in store. I spent the daytime hours looking for a house or apartment while Curtis worked. In the evenings we'd meet back at the hotel and spend time together as a family. Our son had temporarily stayed behind with my dad in Alabama and would join us once the move was complete. That was a blessing for the tough times that were to follow. 
That first paycheck took longer than expected to come in; our house still hadn't sold, and the bills were mounting. We were now out of money, out of food, and out of gas, and almost out of time on our hotel stay. We sat in our minivan, holding the only food we had (a single pack of crackers left over from a salad some time ago). We bowed our heads and prayed for a miracle and asked God to bless that little pack of crackers because that was supper for our daughter that night; Curtis and I would do without. 
After praying, I asked Curtis to go back to the ATM to check our balance, just one more time. I had hoped, and we had prayed, but we didn't feel worthy of such a miracle.  Curtis slowly got out of the car and headed toward the ATM; his head hung low- sadness gripped his face. But, when he checked the balance, there was money in the account! I remember seeing him walking back to the car with a spring in his step and tears in his eyes. Once again, God had provided for our needs; the company that had laid Curtis off paid him a bonus, a bonus that we never expected!! Just minutes before, things seemed hopeless, and we didn't know what we were going to do, but God made a way and instead of just a single pack of crackers, that night, we ate like children of the King! 
Through that bonus, God provided enough means to cover the hotel and food until Curtis' first paycheck and, soon afterward, our house in Alabama sold, and there was more than enough money to meet all our needs. Through the years, God has been so faithful to us. It was this experience that led us to choose the name, "Faithful Crossings," because we realized that day, more than ever before, that God is truly faithful at each and every "crossing" in our lives. 
"Therefore, humble yourselves under the mighty hand of God, that He may exalt you in due time, casting all your care upon Him, for He cares for you. -1 Peter 5:6-7
VIEW THE INSPIRATIONAL VIDEO FOR "I HAVE TASTED AND SEEN" HERE: