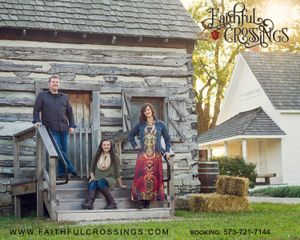 We are super excited to announce that our song, "Farther Down the Road" is rising in the charts!  Last month it hit the Singing News Bluegrass Gospel chart at 32 and now, it has risen to #18!  This came as a bit of a surprise because our marketing was to Southern Gospel stations rather than Bluegrass Gospel stations since all of our instrumentation is done in a studio setting and not on stage.  We have always loved Bluegrass Gospel and most of our music is more on the acoustic/bluegrass side of Southern Gospel so this was exciting to us!  
"Farther Down the Road" is the title song and the first release off of our new CD that came out earlier this year. We chose the song for it's lyrics about God's faithfulness on our journey which is the timeless message that our ministry is all about; plus, we loved the opportunity to add a little a-cappella chorus of "Farther Along" on the end; it is such a beloved hymn of yesteryear and means a lot to us.
Farther Down the Road was written by Wendy Ferguson & Gene Ezell; produced by Les Butler of BMG Nashville and has some of Nashville's top musicians playing on this song. 
If you haven't heard this song, you can find the music video on our website at www.faithfulcrossings.com and you can purchase our music (both digital and CD format) on our website's online store.